Less Restrictive Local Covid-19 Dial Released as State Covid Dial Expires
When the State of Colorado COVID-19 dial expired on Friday, April 16, 2021, public health orders and restrictions largely transitioned to local control. Summit Public Health has enacted a local COVID-19 dial and new public health orders with different metrics and milestones.  The new local Summit County COVID-19 dial is less restrictive and is tied to the metrics of hospitalization, incidence rate, and vaccination rates, which public health believes are more suitable indicators for Summit County.  The new methodology for dial measurement is expected to provide a consistent path forward to even fewer restrictions unless hospitalizations surge to 80% or more.
Currently, Summit County metrics place it in Level Yellow on the new local dial.  See below for what that means to you.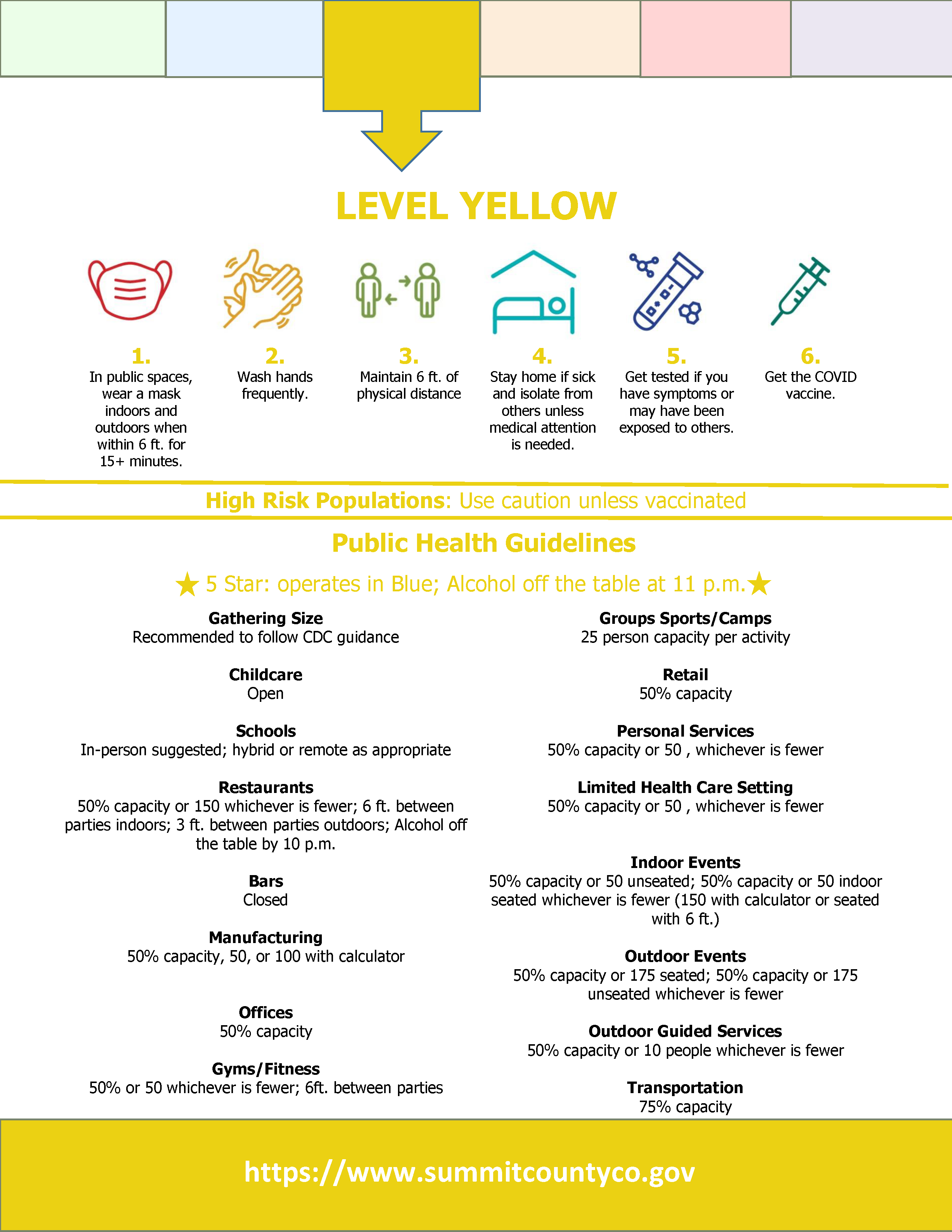 Key Changes With the New Dial
Personal group gatherings- The restriction limiting group gatherings to 10 people max from no more than two households has been eliminated, including for restaurants and lodging. However, exercise caution. Don't go to a gathering if you are sick and be conservative about how and with how many people you get together; especially if you have folks in the gathering who are unvaccinated. Summit Public Health suggests that you follow the guidance on gatherings from the Centers for Disease Control to keep you and your community healthy.
Collecting contact information- 5 Star businesses are no longer required to collect customer contact information. The Contact Tracing Team will continue to reach out to individuals directly when they have potentially have been exposed to the virus.
Physical distancing- Six (6) ft. distancing remains for indoor business activities in all business types, including restaurants, personal services, and personal fitness, but outdoor dining may now be allowed with only three (3) ft. of space between parties.
The State mask requirement has been extended through May 3, 2021, with an exception for counties in level green.  Summit is currently in level Yellow.
Therefore, Summit County's new dial still requires masks for indoor public spaces, including public transportation, and for outdoor public spaces when folks are within 6ft. for 15+ minutes.  Quickly passing someone on a sidewalk will not require a face covering.
5 Star Certification Program
The Summit County 5 Star Certification Program allows certified businesses that demonstrate exceptional COVID-19 mitigation measures to operate at one level less restrictive than where the County currently resides.
Current Operation Procedures for 5 Star Businesses:
Five Star Restaurants: 100% capacity, alcohol off the table by 11pm, and with 6 ft. of distancing between parties indoors and 3 ft. of distance for outdoor seating

Five Star gyms/fitness: 100% capacity & 6 ft. of distance maintained between parties.

Five Star personal services: 50% capacity or 50 , whichever is fewer & 6 ft. of distance maintained between parties.

Five Star Indoor Events: may be conducted at 50% of the posted occupancy limit, not to exceed 225 people, whichever is less, per room, excluding staff. If the event is seated, the event may be conducted at 50% of the posted occupancy limit, not to exceed 175 people, whichever is less, per room, excluding staff; must maintain 6 ft. spacing between groups.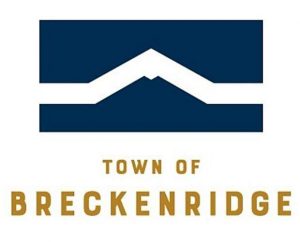 Apres Handcrafted Libations
Aurum Food & Wine
Bangkok Happy Bowl
Beaver Run Conference Center
Blue Fish Sushi
Blue Moose
Blue River Bistro
Blue Stag Saloon
BoLD
Breckenridge Ale House
Breckenridge Brewery & Pub
Breckenridge Cheese & Chocolate
Breckenridge Distillery
Breckenridge Pour House
Breckenridge Tap House
Briar Rose Chophouse & Saloon
Burke and Riley's Irish Pub
Cabin Juice & Elevated Eatery & Bar
Canteen Tap House & Tavern
Castaways Cove
Columbine Café
Continental Divide Winery
Copper Top Café @ Beaver Run
Daylight Donuts
Downstairs at Eric's
Elev8 Lounge at Grand Colorado on Peak 8
Ember Restaurant
Empire Burger
Fiesta Jalisco
Flipside
Giampietros Pizzeria & Pasta
Gold Pan Saloon & Carboy Winery
Grand Colorado at Peak 8 Lobby Bar
HD Tavern
Hearthstone Restaurant
I Scream Gelato
Kenosha Steakhouse
Little Bar & Grilled
Luigi's Sports Bar
MiCasa Mexican Restaurant
Modis
Motherloaded Tavern
Mountain Flying Fish
Northside Pizza
Ollie's Pub and Grub
Pho On Main
Pho Real
Piante Pizza
Quandary Grill
Relish
Ridge Street Kitchen
Robbie's Tavern
Rootstalk
Salt Creek Steakhouse & Napper Tandy's
Sancho Tacos & Tequila
Sauce on the Maggie
South Ridge Seafood
Spencer's Restaurant @ Beaver Run
Stinky Boot Saloon
Subway
Swiss Haven Breck
Twist
Ullr Café at Grand Colorado on Peak 8
Wasabi Japanese Restaurant
Welk Resorts
Whiskey Star
Windy City Pizza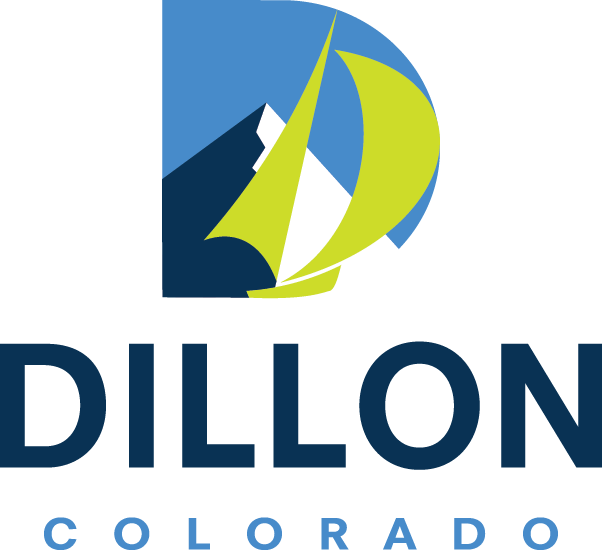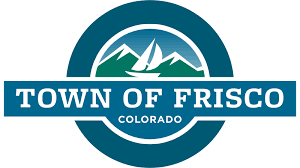 5 th Ave Grille
Bagalis
Bread + Salt
Butterhorn Bakery and Cafe
Carlos Mexican Bar & Grill
Prosit Fine Beers and Sausages
Frisco Prime
Greco's Pastaria
Hacienda Real
Highside Brewing
Log Cabin Cafe
Nuevo Vallarta
Ollie's Pub & Grub Frisco
Outer Range Brewing Co.
Pure Kitchen
Rising Sun Distillery
Silverheels Bar and Grill
Kemosabe Sushi
Subway- Frisco
Tavern West
The Uptown on Main
Tocko

Dillon Ice Castles
Ice Castles is an award-winning frozen attraction located in the heart of Dillon, Colorado. The experience is built using hundreds of thousands of icicles hand-placed by professional ice artists. The castles include breathtaking LED-lit sculptures, frozen thrones, ice-carved tunnels, slides, fountains and much more. Due to current and future public health orders regarding social distancing and crowd restrictions, we reservations are required.
Sledding at Breckenridge's Carter Park
Welcome to the old-fashioned fun of human-powered FREE sledding at Carter Park! For questions, please call the Breckenridge Recreation Center at 970-453-1734, Monday-Friday 5:30am-7:00pm. Participants are required by Breckenridge Town Ordinance to follow posted rules, including wearing masks/face coverings —Town of Breckenridge COVID-19 information.
Frisco Tubing Hill
The Frisco Adventure park has various lanes of tubing, each one has a different experience – some are mellower, while others are steeper with more rolling terrain. The hill is accessed by a surface lift, making it the ideal activity for the whole family. Reservations are required.