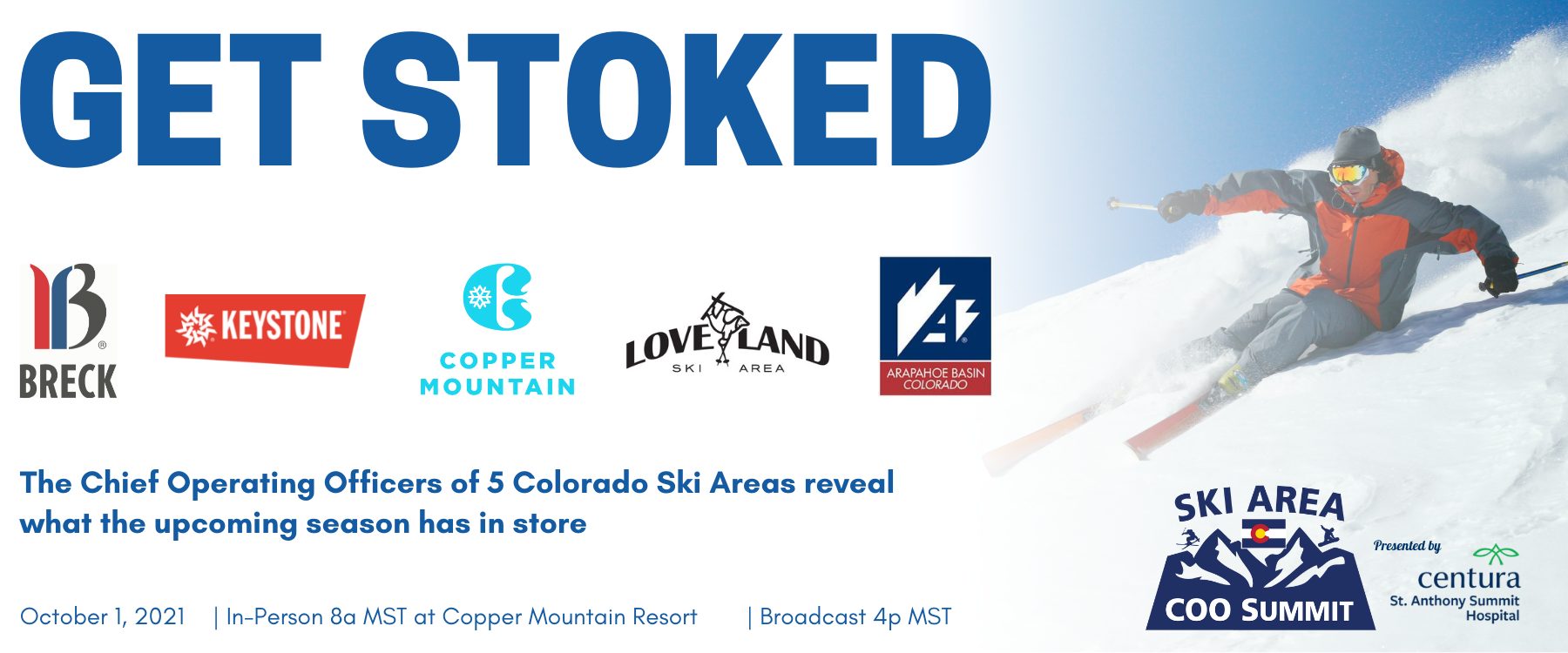 The COO Breakfast has a New Name - and Two Ways to Watch!
For years, the Summit Chamber has joined forces with the local business community to host the "unofficial" kickoff to the ski season each fall.  Featuring the Chief Operating Officers of our 5 area ski resorts (Arapahoe Basin, Breckenridge, Copper, Keystone, and Loveland) sharing the improvements made over the summer and plans for the winter season, the event has long been a Summit County favorite.
A sellout crowd of primarily local business owners, community leaders and elected officials would gather to learn what exciting new things were in store and get "stoked" for the winter ahead.
But 2020 changed everything.
"There are two key goals for this event.

First, to keep it engaging and informative. And second, to actively grow the out-of-market viewers making it one of the premiere tourism marketing events for Summit County while retaining the laid back vibe locals love."
With COVID restrictions firmly in place, it was imperative to pivot and offer a virtual show. Sensing an opportunity, marketing was expanded to target groups that typically could not attend the in-person event, including second homeowners, tourists planning to visit, and national/regional ski clubs. The strategy resulted in a doubling of ticket sales with viewers from over 19 different states.  Equally exciting was a larger number of locals who could join in who had previously been unable to attend due to ticket selling out.
2021 will build upon that success by offering two ways to watch the event - in person or virtually.  The in-person event at the Copper Mountain Resort on October 1 will be recorded and quickly edited, then broadcast to the virtual audience later that afternoon. 
With viewers now tuning in from many different time zones, the event was rebranded the Ski Area COO Summit presented by Centura St. Anthony Summit Hospital (formerly known as the COO Breakfast.) 
Marketing efforts will once again focus on attracting winter recreation enthusiasts across the country. The ever-popular Auction will continue to offer attendees an opportunity to get a jump on their winter fun planning - and businesses a way to market to them. Sponsorships have been crafted to offer exposure to one audience, or both (local and virtual) allowing businesses to choose what fits their needs best.
Check out the opportunities listed here, or reach out to Angelique@SummitChamber.org to learn more.