In a nutshell, because it is critical to the easing of restrictions - and the return of something resembling "normal".
With the new local Summit County Covid Dial, there is a clear path to Level Green in which most business sectors can be fully open.  Summit County must meet the incidence rate metric (0-100 per 100,000) OR the vaccination metric (70% of SC residents fully vaccinated).
What Would Level Green Mean to YOU?
A return to the personal, family, and social gatherings we all miss.
Most business categories returning to regular operations or something very close, which in turn affects our workforce with increased opportunities.
As of April 20, 2021 over 66% of Summit County residents have received at least one dose, so Level Green is within reach. 
COVID-19 vaccinations are now open and available to the General Public aged 16 and older.  Summit County encourages all individuals to register now on PrepMod.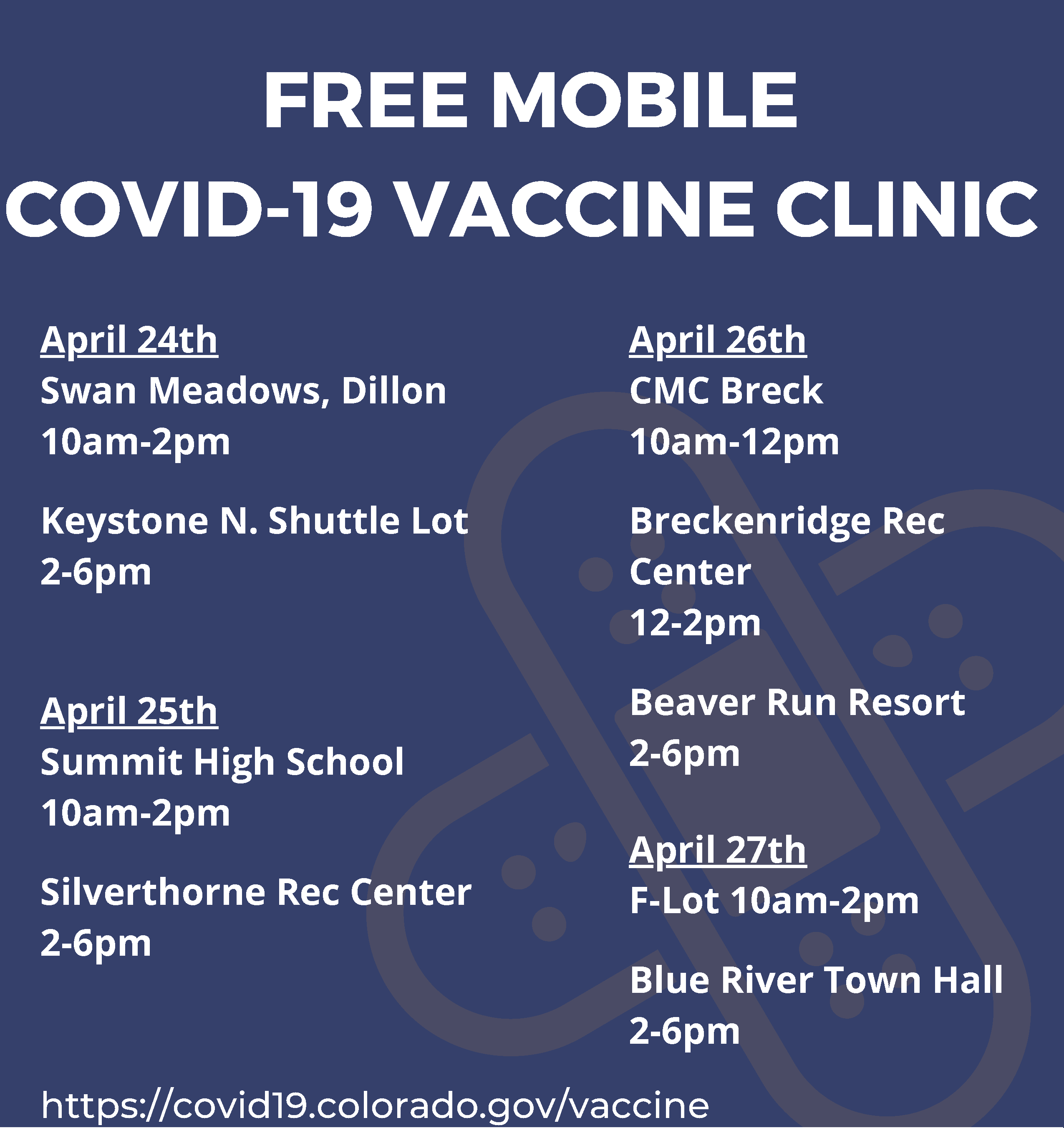 Learn About the Vaccines and How They Work
Watch this Video on Vaccine Information by Aaron Parmet, Medical Officer for Summit County Rescue Group, given to regional Search and Rescue, Ski Patrol, Fire Departments, and EMS organizations.
Aaron Parmet is board certified by the Certification Board of Infection Control and Epidemiology and works as an Infection Prevention Manager.
More information on the updated Phased distribution plan for Colorado and Phases can be found on the CDPHE website.
Getting Signed Up to Receive a Vaccine
Summit County is now using the PrepMod registration system for COVID-19 vaccination appointments. The online registration system allows eligible individuals to put their name on a contact list for vaccination appointments in Summit County, as well as other counties. Eligible individuals will be selected randomly in a lottery each week for vaccination appointments. All individuals ages 16 and older are encouraged to register now on the PrepMod system.  Please visit this link and carefully read and follow the directions for signing up.  A video is also provided to help guide you through the process.
You can also walk up to any of the Vaccination Clinics listed above (no appointment necessary). 
Pre-K-12 educators and licensed child care providers, as well as government employees are encouraged to reach out to their employer for information on scheduling vaccination appointments.
More information on the updated Phased distribution plan for Colorado and Phases can be found on the CDPHE website.
You Can Sign Up With Other Vaccine Providers to Maximize Your Opportuntiy
Increase your chance of getting a COVID-19 vaccine by signing up with other vaccine providers and know that you can choose to go to another county to get these vaccines if you are so inclined, and they are more readily available there, but you will need to be prepared to go back to the same location to get your second dose if you get one of the two-dose vaccines.
Safeway Pharmacy 
https://www.mhealthappointments.com/covidappt
Phone: 970-668-9980
City Market
https://www.kingsoopers.com/rx/covid-eligibility
Phone: 1-866-211-5320
Summit Community Care Clinic 
If you are a Summit Community Care Clinic patient who has been seen within the last three years, please email covax@summitclinic.org to be added to their waitlist. Please include your name, date of birth, phone number, and preferred email address.
Centura Health Physician Group (CHPG)
To be put on the vaccination list with CHPG, go to their registration website- https://centura.secureformsubmit.net/FillOutForm.aspx?formname=COVID-19_Vaccine_Notification. CHPG will notify you when you are eligible to receive the vaccine and will schedule an appointment with you at that time.
Walmart Pharmacy
https://www.walmart.com/cp/1228302
Note that allocations of vaccine will be limited each week, so it will take some time to vaccinate everyone in each phase.
More information on the updated Phased distribution plan for Colorado and Phases can be found on the CDPHE website.