2023 Business Excellence Awards
Chance to WIN $1000 in radio recognition & printed materials for 20 minutes of work!
The Business Excellence Awards were created by the Summit Chamber of Commerce to recognize and reward the imagination, industriousness, innovation and achievements of business owners and operators in Summit County.
These businesses are the backbone of our community and this event provides an opportunity to showcase and celebrate their contribution to the economic vitality of this Rocky Mountain paradise we call home.
To recognize businesses for their work in 2022, this year's Summit Chamber Business Excellence Awards will honor businesses in two different categories with a total of seven awards:
Category 1 - General Awards
New Business of the Year
Business Innovator of the Year
Business Team of the Year
Ben Fogle Chamber Champion of the Year
Category 2 - Business of the Year
Small Business of the Year
Medium Business of the Year
Large Business of the Year
Join us in supporting our vibrant business community by nominating a business, attending the festivities or even marketing your business through a sponsorship.
Award Winners announced on April 13, 2023, get your tickets or sponsorship before they are gone.
Applications and Nominations
APPLY FOR YOUR BUSINESS
Applicants may only apply for one award from each category listed above in the General Information section. 
HOW TO APPLY
Download the application from the above button.

 

Complete the PDF document and Save As  "Your Company Name"

Submit the completed application by 11:59pm Friday, March 17, 2023,

by uploading the application to the above "Submit Application" button.  

Look for a confirmation email that your application was received within 24-48 hours.
Applicants DO NOT need to be a member of the Summit Chamber except when applying for the Ben Fogle Chamber Champion Award.  Applicants should conduct business on a regular basis in or be based in Summit County.  Check out the above "Application Information Packet" and "Download Application" for more details.

NOMINATE A BUSINESS
If you would like to nominate a business for one of the awards the process is simple!  Please take the following steps:
Identify an email address for the business/person at the business you would like to nominate.

Email the application or link to the website (https://www.summitchamber.org/2023-business-excellence-awards)

to the business you are nominating and inform them you think they would be a great fit for an award.

In the email, carbon copy (CC or BCC) Chamber staff (

biz@summitchamber.org

) so we can follow-up with the business. 
A nomination is not required to apply for the awards.

Tickets & Award Information
Summit Chamber Business Excellence Awards Ceremony (GALA)
Thursday, April 13, 2023
Doors Open at 6:00 pm
Silverthorne Pavillion - 400 Blue River Pkwy, Silverthorne
The Panorama Summit Orthopedics VIP Reception for Sponsors and VIP table holders will be held from 5-6 pm.
**Chamber Members - check your email Monday, March 6 for a discount code to receive $15 off per ticket!
Sponsorship Opportunities
Get Involved in the Best Business to Business Marketing Opportunity in Summit County
Get your business in front of 350+ local business owners and leaders.
Are you a Business to Business provider? 
Then this is your chance to build a relationship with your ideal customers.  This event, produced by, and for, the Summit business community is the perfect showcase.  Here's how your business can get involved:
To learn more about these opportunities or review our sponsorship packages, please contact Angelique Lochridge at Angelique@summitchamber.org.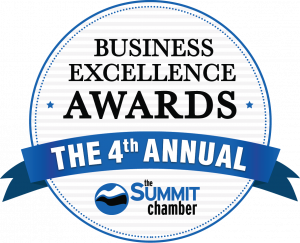 2019 Business Excellence Awards Recap & Results
Get excited for 2020 with a quick video recap of last year's event, or click on the thumbnail images below to view the nominees, finalists, and winners!